Livingstone: Be Here, Be inspired. A Provision of Cultural Interactions.
I lived four distinctly different lives while staying at Jollyboys Backpackers--a staple of Livingstone that breeds memorable experiences and meaningful friendships--each a result of the diverse kinds of accommodation they offer (http://www.livingstonetourism.com/jollyboys-backpackers-camp/)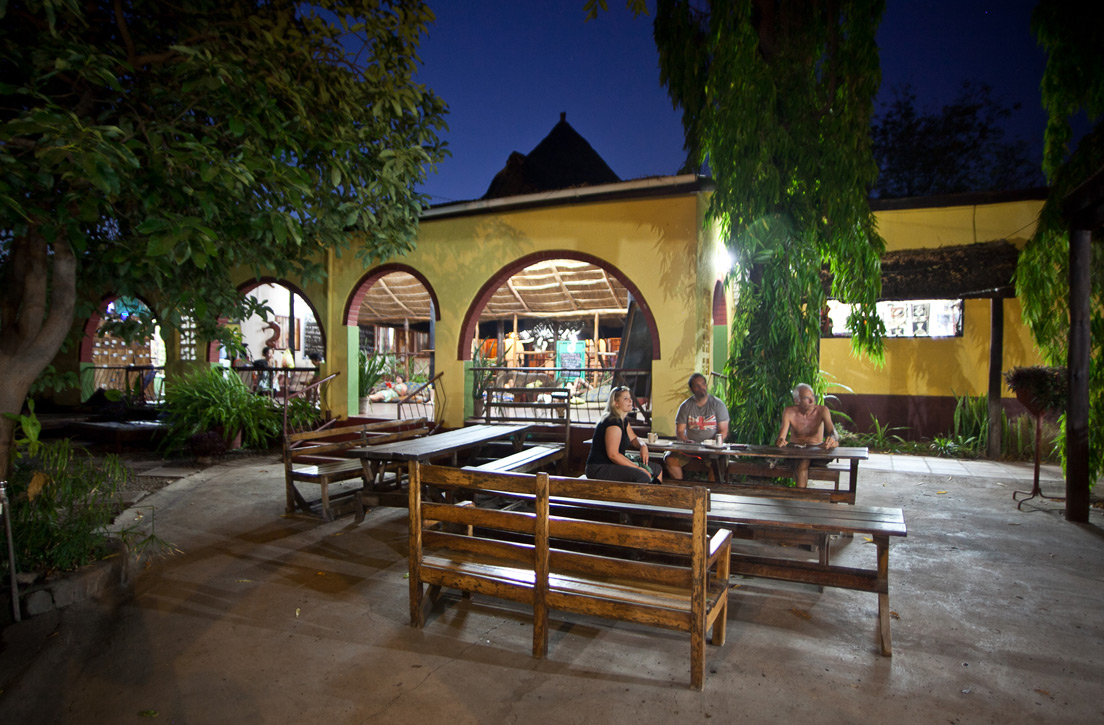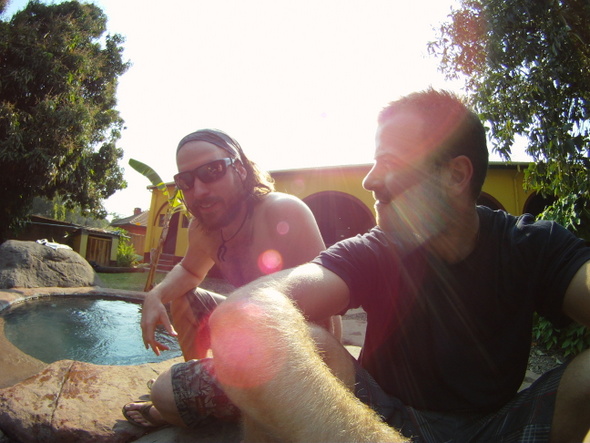 Dorm Life (The Extrovert)
For anyone who's heard about it, you can be sure it will live up to the hype at any time of year.
I stayed in all of their dorm types: 4, 8, and 16! Each offers something unique with the smaller ones fostering closer friendships in a slightly more private environment while the big one is like commune living where you can expect the unexpected. Either way, the experience is something I call "speed-friending".
After your hard day's work shooting rapids, flying around the falls, hanging out with big cats, or temping fate at Devil's pool, you're going to have no shortage of people to swap stories with on return to Jollyboys. My usual routine was to hit up the Jollybar for a cold Mosi. If I didn't know anyone it didn't matter. Everyone there is open to new conversations with new friend and the group seating helps foster that atmosphere. From the bar it would be time to go poolside for a dip and a lounge before the sun ducks down for the night.
Dinner presents it's own options with self catering and full service kitchens but my favourite by far would be the impromptu Braii with new friends. A quick swing through town and the charcoal, meat, and veg are really to go.
Post dinner my nights would be on rotation depending on my energy level. Those feeling drained tended to head over to the "chill zone" where you've never seen so many pillows in your life (and handmade pillows at that!). It's the perfect place to bury into a book or fall into deep chats.
On the nights I didn't feel like sleeping much I'd post up by the free ping pong and pool tables. Inevitably there would be an exodus of midnight marauders when the bar shuts down at 1030pm-1100pm. Thankfully, there's a perfect bar circuit in walking (or crawling) distance, which for me went something like this: Fez bar, Pub & Grill, Aiyoba, East Point. All I can say about that is the Zambian's know how to dance! Hopefully some of it has rubbed off on me.
Camping Life (The Minimalist)
Not everyone is into sharing a room with strangers or living the party life. Technically, I'd say I'm actually an introvert in extrovert's clothing so the recluse and minimalist in me was more than happy to switch gears into a tent.
What a treat. Jollyboys actually has an entirely separate "Campsite" to cater to campers but their main property also has terraced, shady spots to pitch a tent. What I discovered was that the shade has the added benefit of coming from mangoes trees which are probably the most common type around the property. Camping between October and December is going to mean you'll reap the rewards. Without exaggeration, every morning I woke up there would be 2-5 new ripe mangoes that would have dropped overnight. It was like nature decided I wasn't getting enough vitamin C with my breakfasts (which usually consisted of the JB omelette or hot fresh bread from the nearby Spar). So, after a quick rinse it was coffee and mangoes for me.
The mangoes weren't the only green part about my stay. Jolly's actually goes to great lengths to ensure they are a socially and environmentally friendly operation. From multi-purpose recycling (very rare in the area), a worm farm, solar water heaters, to orphanage football games, clothing drives, and donations, the whole stay makes it really easy to live lightly and give back.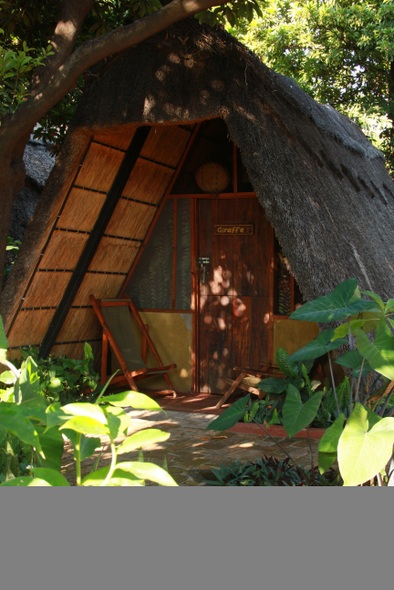 Chalet Life (The Culturalist)
If you love being immersed in nature but not so much the sleeping on the ground thing then the Chalets are for you. My favourite part about them is the triangle thatching, which gives it an authentic African feel.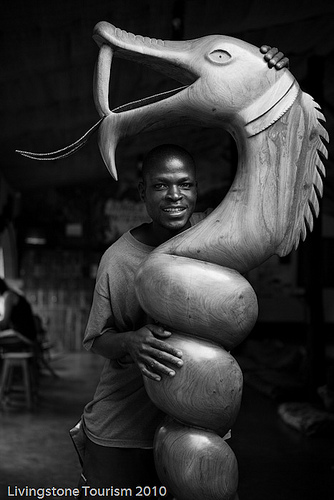 But that's not where the cultural experience ends. Weekly drumming and dance performances are given around the Jollybar. In fact, some of the performers are actually staff at Jollyboys and are encouraged to take time off to hone their talents. Apparently they've done just that because talking to Jonathan and Leonard at the bar, they told me their song and dance group had been selected to represent Livingstone in the national competitions being held in Lusaka. I was never able to make it there to see if they took the crown but I considered myself lucky to have heard their performance a number of times at Jollyboys.
The entire property is really artfully decorated too. I met a number of artists while there as they would be building or painting some new creation on site. There's a welder who designs these intricate metal murals, tables, and cabinets. Even the security bars are works of art! Another regular contributor is "Zig Zag"--a 6ft tall rastaman with about as kind a soul as you can get. He's done wall paintings and posted canvas works in most rooms which can all be bought.
The cummulative effect of all the artistic contributions is a accommodation experience that embodies Zambian culture in all of its expressive forms.
Private en Suite Life (The Afficionado)
My final life lived at Jollyboys was a rare treat for me as it was one of luxury. I stayed in the "Buffalo" room at the back of the property. It's a colourful, peaceful existence with all the perks one would want. For me that meant great art, air conditioning, bed nets, and a beautiful tiled "en sweet" bathroom.
Far from the enthusiasm of the bar area, it's the perfect way to tune down in private. While there I soaked up some much needed R&R and figured I'd take the opportunity to "live well" by heading out for nice meals and some shopping, which is as easy as ever thanks to Jollyboys location in the heart of Livingstone.
It also gave me time to reflect on how kind and courteous the staff are there. Every morning as they'd make their rounds to keep the place looking sharp, we have chats and talk about what was going on around town or about "Chipolopolo's" next big football match.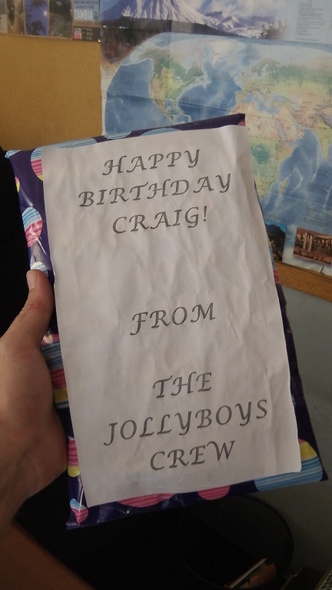 But there was one moment in particular that I realized I was loved and appreciated. It was my birthday and as I was walking over to the front gate to head into town, one of the staff members called me back. "Can you come to the reception for just a minute?" she said. I obliged figuring that I must be behind in my payments or maybe someone had left a message for me. "Sit right there, I'm coming right back" she told me. The next thing I saw was a group of maybe 8 or 10 staff members all giggling and rushing toward me. They were holding two big buckets of water and yelled "happy birthday!" as they drenched me right in the middle of reception!
Now, I doubt they would do this to any given guest but they'd come to know me by then and were pretty sure about how much I would love it. And I did, it actually made my day and probably my whole stay with them for that matter. Apparently it is traditional in Zambia to be drenched in water on your birthday to simulate the original birthing process!
At the end of it all, Jollyboys is just a really special place. All of my lives there brought a new perspective, new flavour, and new people into my life, and for it I'm grateful."